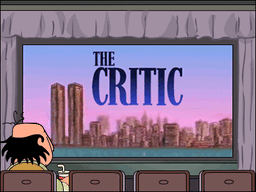 Welcome to The Critic Wiki, a collaborative wiki that anyone can edit!
The Critic is a short-lived animated sitcom created by Al Jean and Mike Reiss (of Simpsons fame). Its original run was from 1994 to 1995, with the first season (1994) being aired on ABC and the second season (1995) on Fox. Reruns of the show were aired on both Comedy Central and ReelzChannel. Apparently, The Critic aired on Cartoon Network in Spain, alongside Duckman, months before Adult Swim was launched in the US. There was also a series of webisodes distributed via the internet throughout 2000 and 2001.
The premise involves balding, divorced movie critic Jay Sherman, who hosts a film criticism show, Coming Attractions. Jay is often shown to have distaste in the (mostly parody) films, using his catchphrase "It Stinks" to describe most of them. Comedic misadventures ensue as Jay attempts to make do with various misfortunes put upon him, whether they be related to his show, relationships, family, or otherwise.
Among the cast of characters are Jay's nutty adopted parents, his sister, his well-meaning son Marty, Australian movie star and best friend Jeremy Hawke, makeup lady Doris, and his boss Duke Phillips. In season two, the main cast is extended to include his girlfriend, Alice, and her daughter, Penny. The webisodes disregard most of these characters due to budget and technological limitations, and both Alice and Doris' roles are replaced by a woman by the name of Jessica.
News
[
]
7/13/10: Wiki starts.
7/5/10: The Critic was confirmed to air on TBS soon.
12/11: Ranked 6th on Most Underrated Animated T.V. Shows of All Time.
8/9/17: Renovation begins
Latest activity
[
]